Product Description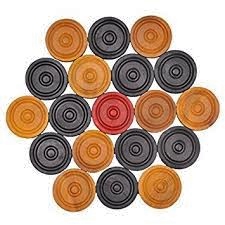 PLUS FREE BONUS OFFER - CARROM 2 IN 1 HANDBOOK RRP VALUED - $19.95
These TWO EX-FACTORY CARROM COIN SETS of Medium weight Wood Coins are made from selected seasoned woods in a beautiful ornamental finish, polished, and with the use of our technologically advanced powder, produce a smooth and fast play.
The Carrom Board Coins sets, each contains Totals 24 includes spare coins, packaged in a plastic storage box, and suitable for play on most Carrom Boards.
They are suitable for everyday non Competitive play including Draughts/Checkers. These Factory Seconds Coin Sets have been very heavily discounted for a Quick Sale.
These Ex Factory Seconds Carrom Coins have slight manufacturing flaws, and should not affect your friendly game play.
Product Videos
Custom Field
Product Reviews