Product Description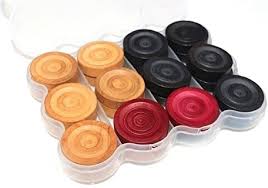 Official Australian & International Carrom Federations GENUINE Approved Championship Carrom Board Coin Sets available only from Carrom Boards Australia!
FREE BONUS OFFER - CARROM 2 IN 1 HANDBOOK RRP VALUED - $19.95
This is our finest, traditional wooden coin set, supplied with all our New Tournament and Championship Competition Carrom Boards.
This New Genuine Championship Standard coin set has been approved by both the International and Australian Carrom Federations as it complies with all manufacturing standards for use in Local and International Tournament including world Championships play.
They are made from the very best selected wood, with a beautiful ornamental finish.
They are well polished, and with the use of our technologically advanced Carrom Board Surface Poder, produce a smooth and very fast Break To Finish play.
The coin set Totals 24, including spare coins is packaged for safe keeping in a plastic storage box.
Product Videos
Custom Field
Product Reviews