Product Description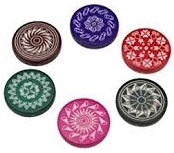 *Australian & International Carrom Federations "GENUINE" Championship Approved Regulation Carrom Board Striker
FREE BONUS OFFERS INCLUDE - CARROM HANDBOOK, CARROM ACCESSORIES STORAGE BAG & AUSTRALIA WIDE FREE DELIVERY.
This is our New Precision manufactured ACF/ICF Approved Regulation Championship Carrom Board Striker.
It has a beautiful, engraved design*, weighs around 15 grams (for high performance and accuracy), manufacturing specifications set by The Australian & International Carrom Federations.
This striker is available in various colours and engraved designs, and presented in a plastic case for safe storage.
A must for all Carrom Players requiring a precision quality striker, suitable for local or state level club competition.
When ONLY the Very Best will do!
*Colour & Designs shown may vary and is subject to availability
Product Videos
Custom Field
Product Reviews